MOBILE APP DEVELOPMENT
ANDROID Application Development
We're committed to deliver innovative android apps.
BlazeDream builds user-centered mobile apps by recognizing the digital age. Our Android services help maximize the potential of mobiles by spanning the app life-cycle.
Android Apps are specially designed and developed for providing a wholesome solution to Android mobile users by facilitating easy accessibility to rich development environment. Our app developers update themselves with the fast evolving business changes and technology needs. We develop tailor-made Android applications to meet strategic business objectives. BlazeDream offers innovative android apps with exciting features that surprise you and your end users.
Android Wear
BlazeDream extends support for stand-alone wearable devices by creating enhanced user interaction and a stunning app experience.
Wearable apps are synced automatically to a watch giving you access to a range of hardware such as sensors and the GPU.
Backend Integration
BlazeDream focuses on Mobile-first strategy and is capable of virtually integrating any type of android apps. Our approach to data integration across any back end is unique. We integrate your app in existing software environments and also implement functionality such as: back up of user data in the cloud,serving content to client apps, real-time interactions, sending push notifications through Google Cloud Messaging for Android (GCM), and more.
Android Development Life-Cycle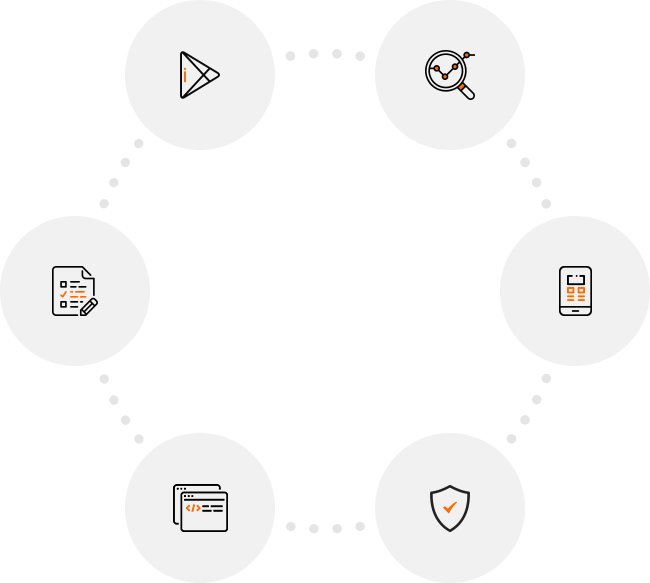 1

BUSINESS UNDERSTANDING

Product Analysis &

Competitors Strategy

Roadmap
Concept
Scoping

2

UPSTREAMDESIGN

User Experience
Wireframe
Prototyping
UI Design

3

SECURITY

Secure Architecture
Encryption
Assessment
Security Testing

4

API DEVELOPMENT

Integration
Database Design
Front-end Development

5

TESTING

Functional test
Security test
UAT test

6

CUSTOMER ENGAGEMENT

Packaging
App Store Preparation
Submission
Feedback & Support
Our Android App Development Strategies
A complete library of 2D and 3D graphics with an extensive range of audio and video files.
Android apps maintain harmony with the features of Video camera, accelerometer and magnetometer.
Interprocess communication (IPC) message passing.
Facilitates SQLite for data storage.
Useful for publishing export and signing app.
Ease of information access.
We offer a full fledged Android Development Services to our clients. Whether you are looking to build custom applications from the beginning or want to revise and develop existing android programs, our skilled and experienced developers can get the job done!
Technologies
Frameworks/Libraries

Android SDK
OpenGL
WebKit
FreeType

Android ANT SDK
Surface Manager
Media Framework

Play Games SDK
SGL
SQLite

Database